Duane Kenagy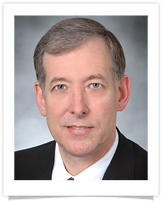 Duane Kenagy, P.E., is a member of the ICTF JPA governing Board and also serves as the Interim Chief Executive of the Port of Long Beach, California. He was appointed to the position by the Long Beach Board of Harbor Commissioners in September 2016, following the resignation of Jon Slangerup. Kenagy will serve in the position while the Board conducts a search for a permanent Chief Executive.
As Interim Chief Executive, Mr. Kenagy leads the Port's Harbor Department staff of over 500 people with an annual budget of nearly $900 million.
Prior to his appointment, Mr. Kenagy had served as the Port's Capital Program Senior Executive Lead since November 2014, overseeing all elements of the Port's decade-long, $4 billion+ capital development program – the largest infrastructure investment of any port in the nation – with a goal of completing a number of landmark projects on schedule and within budget.
Major capital projects at the Port include the replacement of the aging Gerald Desmond Bridge and the Middle Harbor Container Terminal – each budgeted at $1.3 billion. Another billion dollars is budgeted for rail improvements to increase on-dock rail capacity.
As an engineering consultant, Mr. Kenagy has worked with the Port on a number of projects since 1990, primarily with the $2.5 billion Alameda Transportation Corridor Project, where he served as Director of Engineering and overall Program Manager for 20 years. The 20-mile rail and highway improvement program provides a high-capacity, below-grade freight corridor connecting the ports of Long Beach and Los Angeles to the interstate rail and highway networks without affecting surface traffic. It was developed jointly by the Ports of Long Beach and Los Angeles and has been recognized by the U.S. Department of Transportation as a model of on-time, within-budget mega project delivery. Other Port of Long Beach projects have included the Anaheim Street Grade Separation project in 1990, Pico Avenue Ramp Connector project in 1993 and the Inland Port Study in 2011.
Mr. Kenagy has more than 35 years of engineering and design project management experience in the U.S. and overseas, most recently with the Moffatt & Nichol engineering consulting firm. He joined the company in 1994 and has served in various roles, both domestically and internationally. His experience closely aligns with his role at the Port, including his work with Moffatt & Nichol's Goods Movement and Transportation Practice Group (2007-2012), the firm's Alternative Project Delivery Initiative, and his direct involvement in P3/Design-build pursuits in California and other states.
Mr. Kenagy began his career with the Oregon State Highway Division, and, following assignments in Oregon, the Middle East and Chicago, he transferred to California in 1989 to work on the I-110 Harbor Freeway Transitway Project. Other notable California construction projects have included the San Gabriel Rail Trench Project; the I-5 Santa Ana Transitway Widening Project and the San Joaquin Hills Transportation Corridor in Orange County. He also recently served as an advisor to the Capital Southeast Connector JPA in Sacramento. Other projects have included the ReTRAC Project in Reno, Nevada, and marine terminal projects in Santa Marta, Columbia, and Barcelona, Spain.
Mr. Kenagy earned a Bachelor of Science degree in Civil Engineering, Structural Option, with High Honors from Oregon State University (1979) and, in 2011, was appointed to the University's Academy of Distinguished Engineers. He is a registered Civil Engineer in California and six other states and is a member of the Transportation Research Board, the American Society of Civil Engineers and the Design-Build Institute of America. He was honorably discharged from the United States Air Force following service in 1970-71 and holds a commercial pilot license.
He is the recipient of numerous awards from the Orange County and Los Angeles County Chapters of the American Society of Civil Engineers for his work on the Alameda Corridor program, including the ASCE Outstanding Civil Engineering Achievement award and ACEC Grand Award.